DevSamurai is delighted to announce that we partner with Nimble Evolution, an international Brazilian company specializing in Software Development and IT, to deliver even more value to our beloved customers.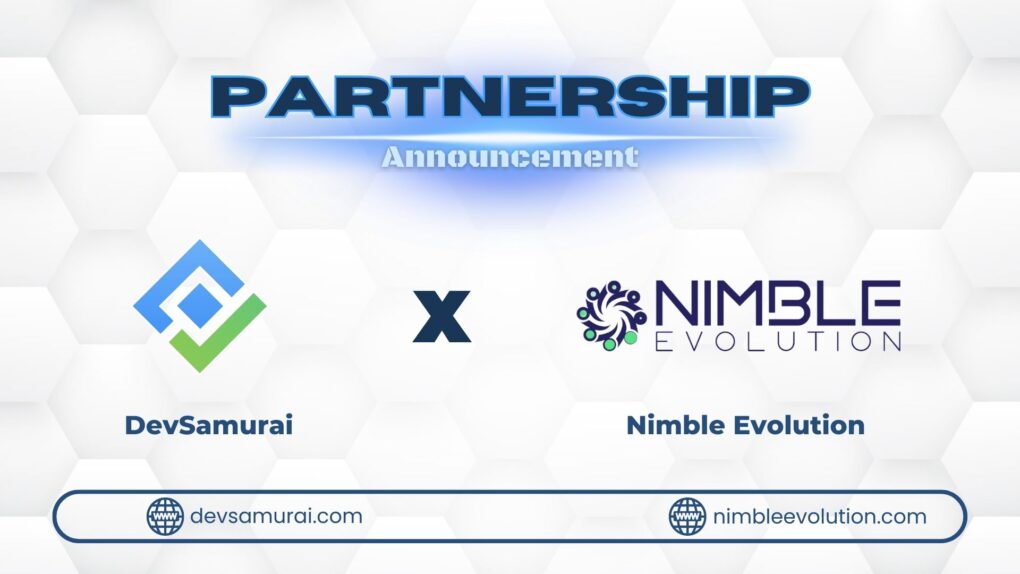 Spanning the globe, the Nimble Evolution team has been working with 19 years of dedication, commitment, and unwavering humility. 
Aligned with their vision, DevSamurai has forged an official partnership with Nimble Evolution, enabling us to further assist organizations and businesses in achieving seamless and agile project development!
More about Nimble Evolution
Founded in 2004 by Álvaro D'Alessandro, their journey began, eventually evolving into Nimble Evolution (formerly OAT Solutions) as it stands today.
Under the banner of OAT Solutions, they originated in Brazil with a focus on refining businesses, particularly in Software Development and IT.
Over the years, Álvaro tirelessly built OAT Solutions' reputation, expanding the team and forming impactful alliances, including a pivotal one with Atlassian in 2009.
In early 2022, despite the pandemic-related delay, Álvaro D'Alessandro successfully resumed and completed the expansion in the US, rebranding OAT as Nimble Evolution.
For more information about Nimble Evolution, visit their website at https://nimbleevolution.com/.
About DevSamurai
Based in Japan, DevSamurai stands as an innovative IT Service firm, harnessing cutting-edge technology to provide transformative DevOps solutions to its expanding clientele. 
Our team's collective expertise matches the power of technology, offering top-notch consulting, efficient service delivery, and swift technological solutions for a seamless Software Development Life Cycle (SDLC). 
In July 2023, DevSamurai was designated as an Atlassian Platinum Marketplace Partner, which reflects our commitment to delivering exceptional products and services to its customers.
DevSamurai's partnership with Nimble Evolution notably reinforces the commitment to optimizing project development through agile methodologies. By combining DevSamurai's expertise with Nimble Evolution's deep understanding of the Atlassian ecosystem, DevSamurai expands its reach and ensures more organizations can benefit from our innovative solutions. Together with Nimble Evolution, we can deliver comprehensive services and support, helping organizations unlock the full potential of our collaboration and information management processes.