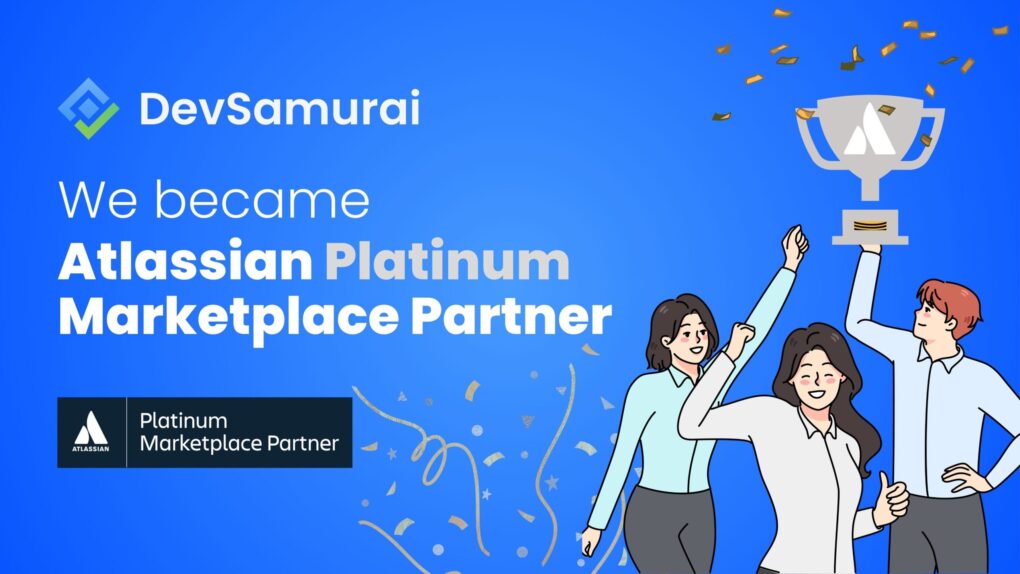 [Tokyo, July 2023] – DevSamurai, a leading software development and collaboration solutions provider, is thrilled to announce that it has been designated as an Atlassian Platinum Marketplace Partner. This prestigious recognition from Atlassian, a global leader in team collaboration and productivity software, reflects DevSamurai's commitment to delivering exceptional products and services to its customers.
The Atlassian Platinum Marketplace Partner status is a testament to DevSamurai's dedication to innovation, customer satisfaction, and technical expertise. With this achievement, DevSamurai joins an elite group of companies in the Atlassian ecosystem, standing as a symbol of excellence in the development of apps and integrations for Atlassian products.
As an Atlassian Platinum Marketplace Partner, DevSamurai gains access to enhanced resources and support from Atlassian, enabling the company to further enhance its offerings and deliver even greater value to its users. This partnership will enable DevSamurai to accelerate its product development initiatives, providing customers with cutting-edge solutions to address their unique business needs.
"We are incredibly proud to become an Atlassian Platinum Marketplace Partner," said James Luong, CTO of DevSamurai. "This achievement is a testament to the hard work and dedication of our team, who continuously strive to create innovative solutions that empower our customers to collaborate and achieve their goals efficiently."
DevSamurai's portfolio of apps and integrations for Atlassian's suite of products, including Jira, Confluence has garnered praise from users worldwide for their functionality, usability, and seamless integration. The company's commitment to quality and customer satisfaction has been a driving force behind its rapid growth and expansion.
About DevSamurai
DevSamurai is a leading software development and collaboration solutions provider, specializing in creating apps and integrations for Atlassian, Monday and Salesforce's suite of products. With a customer-centric approach and a passion for innovation, DevSamurai strives to help teams and businesses achieve success through seamless collaboration and efficient project management.
About Atlassian
Atlassian is a global software company known for providing collaborative and productivity tools for teams and organizations. Founded in 2002, the company's products have gained immense popularity among businesses worldwide. Atlassian's suite of products includes Jira, a powerful project management and issue tracking platform; Confluence, a collaborative documentation and knowledge-sharing tool; Bitbucket, a code collaboration and version control system; and Trello, a visual project management tool, among others.
The company's solutions empower teams to work together efficiently, enabling them to plan, track, and manage projects seamlessly. Atlassian's user-friendly interfaces and extensive integrations make it a top choice for teams ranging from startups to large enterprises across various industries.
For more information about DevSamurai and its products, please visit www.devsamurai.com.
Contact: 
Teresa Tran
Public Relations Manager 
Email: teresa@devsamurai.com