Project owners and managers who handle large, complex projects or multiple teams may have little luck with basic product development and management software. Mainly, this is due to the sheer amount of work that must be completed in specific timeframes, tasks that depend on each other, and the number of people collaborating on the project. Programs supporting basic roadmaps cannot provide efficient support for smart planning and effective communications.
You may be looking for a better way to plan and communicate than creating and managing multiple boards and components, attempting to properly prioritize hundreds of tasks in the backlog, analyzing sprints and reassessing on a constant basis, and dealing with miscommunications and misunderstandings between team members. Fortunately, Advanced Roadmap and Timeline for Jira offers product development and management solutions for large teams and complicated projects. Your team can collaborate and communicate effectively, organize a project smoothly, develop predictable and precise estimations, prioritize tasks accurately, and stay on target during development.
Naturally, you may be curious how one program can offer all these benefits, especially if you have been struggling with other programs. Follow along to find out exactly how advanced roadmaps and timelines can help you and your team plan and communicate.
Work with Multiple Teams
If you have a large project, depending on many different teams throughout the lifespan of its development and management, you'll need advanced software. You may need a backend team, frontend team, design team, visual team, marketing team, or content team to work together during the whole project or teams to step in at different times. In either case, it's important to make sure the team can easily understand and work with others to accomplish tasks. Advanced roadmaps and timelines let you organize ladder work, with different levels of hierarchy. Teams can view objectives, use visual information, and guide themselves in tasks.
Track Progress
When you are using basic programs for multiple projects, it can be hard to keep track of overall progress. You must check in with multiple teams and multiple sprints, and sync them to view the big picture. When you can visualize and manage everything related to your projects in a visually-pleasing portfolio roadmap, you save yourself time and prevent errors.
Keep Dependencies in Mind
As a project owner or manager, coordinating different parts of a project or setting up pre-determined dates for certain teams to come on board for a project can be frustrating. It only becomes more stressful when you are handling larger projects and a higher number of teams. When you have the opportunity to track dependencies easily, you'll gain clarity into what needs to be prioritized and what is least important. In turn, this can help you control backlogs efficiently.
Consider Your Team
A common problem with project management is considering a company or stakeholder's needs ahead of your team's capacities. These mistakes are made when project information is scattered and disorganized. It becomes easier to set desirable goals and rules, rather than realistic ones. Yet, this can lead to many problems down the road when tasks aren't completed on time, sprints need to be reassessed, and releases are delayed.
When you can collaborate effectively with your teams, and information is coherent and easy to find, you can set realistic goals. You can also keep track of whether your teams have the capacity to complete the work you have already set forth in earlier planning meetings. Likewise, your team can update you on new delivery risks, underestimated work complexity or effort, or changes to team capacities. In this way, you can effortlessly reassess backlogs if necessary before your project goes off the rails.
Be Flexible
Say goodbye to rigidity, and embrace the flexibility of the future. Programs that cannot handle the workload of your product development may force your teams and projects into a basic template. It can cause all sorts of issues down the line, yet one of the major concerns is rigidity. When you cannot place all your information in one place, you are more likely to remain committed to a certain goal and date. Any upset can throw your whole project down the drain.
Fortunately, advanced roadmaps for Jira allow you to develop flexible, custom roadmaps. A custom roadmap provides the freedom to incorporate whichever features suit your needs best. Additionally, you will be able to update any information you like during development. Effective planning takes into account new details, team ideas, capacity changes, and other factors that can alter planning. When this happens, you can simply adjust to meet your new needs and track how work is coming along.
Dynamic Planning… For Everything!
When you and your team choose Advanced Roadmap and Timeline for Jira, you do not only have access to one or a few types of planning. You will have access to roadmaps and timelines for any of your needs: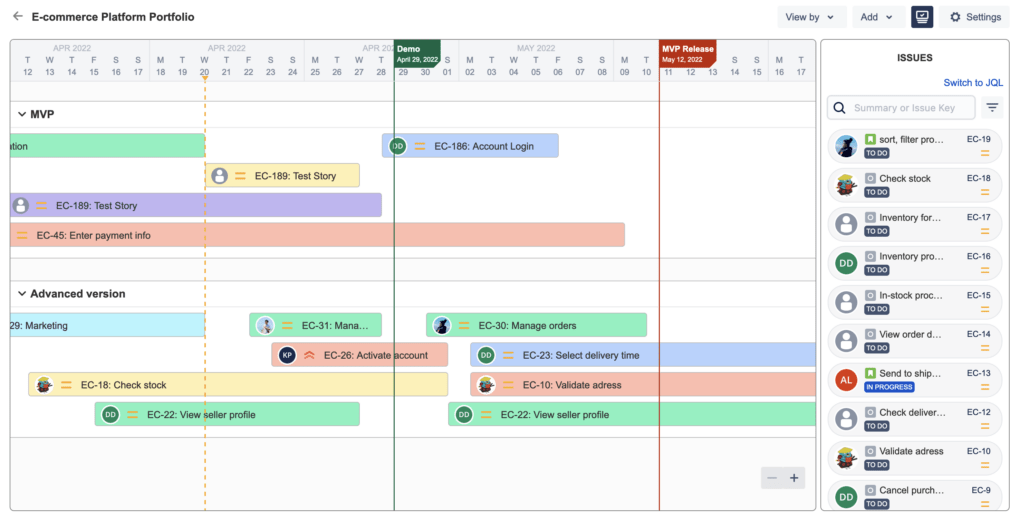 You can plan and track any tasks in progress on a Features Timeline Roadmap
You can set up a visual release plan complete with dates, requirements, goals, and work scopes courtesy of a release plan roadmap.
You can strategically plan out timelines and delivery dates of work with a release timeline roadmap.
You can strategically prioritize work and tasks with a prioritization matrix. Clearly rank certain goals, challenges, or steps while brainstorming with your team and company with important criteria measures.
You can create custom roadmaps or you can use roadmap templates designed with complex projects in mind!
A Single Source of Truth
The best reason to invest in advanced roadmaps and timelines for Jira comes down to one thing… to keep your team and projects aligned in a single source of truth. A single source of truth, or an SSOT, allows you to aggregate data from different projects and teams into one source. It is not only beneficial for you and your team members, but it is also advantageous for reporting to stakeholders and any higher company heads. You can easily pull the data you need, at any time. You will no longer need to spend copious amounts of time choosing appropriate data, making sure it is accurate, and syncing all your information into a coherent document.
Ready to Plan and Communicate Better?
If you are ready to handle your projects and teams better than ever before… try Advanced Roadmap and Timeline for Jira today!