DevSamurai is excited to announce that we partner with META-INF, an international Hungarian company with the passion to provide the highest level of Atlassian consultancy, training and support, apart from product development.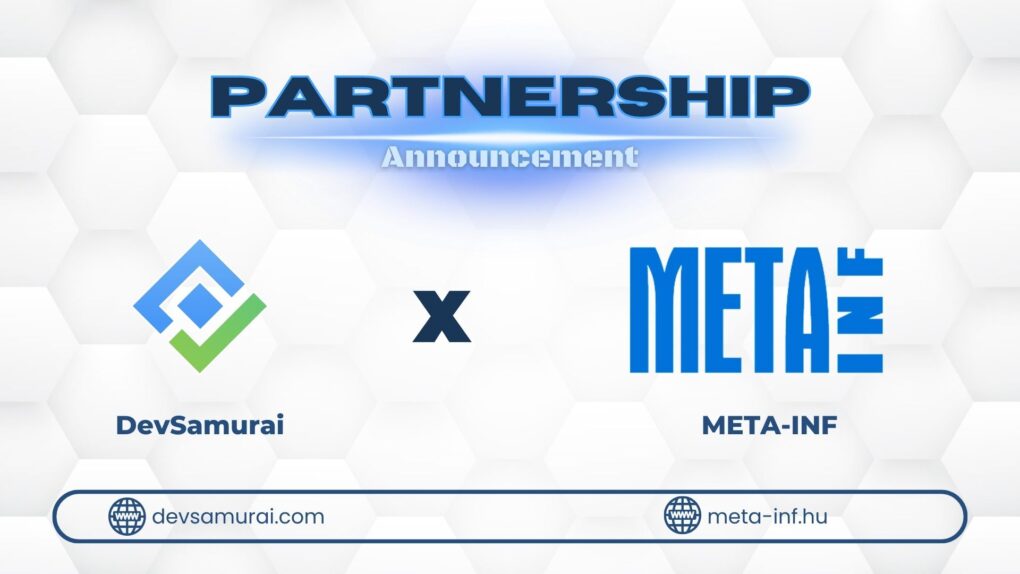 META-INF is an esteemed Atlassian Platinum Solution Enterprise Partner and Platinum Marketplace Partner. They equip countless Atlassian users worldwide with their cutting-edge Jira applications, backed by decades of expertise.
META-INF is committed to becoming a trusted and dependable technology partner, prioritizing transparency and cost-effectiveness. They adhere to the KISS (Keep it Super Simple) principle to identify the most straightforward solutions for business requirements.
In alignment with their philosophy, DevSamurai proudly announces an official partnership with META-INF. This partnership strengthens our ability to support organizations and businesses in achieving seamless and agile project development.
More about META-INF
Founded in 2003, META-INF achieved significant milestones over the year, including becoming an Atlassian Platinum Expert. They also actively participated in Atlassian events and sponsored the TEAM event. Additionally, they promoted the Hungarian Atlassian community by hosting regular meetups. 
In 2016, they initiated the META-INF Atlassian Day, which has grown into one of Europe's largest Atlassian-related events. Additionally, the company joined the Pledge 1% movement, offering their expertise to teams with noble goals. 
In 2019, Atlassian acquired META INF's Ultimate Permission Manager, and they received recognition for having the highest average intelligence in a competition. 
The company continued to excel, earning a Bisnode AAA Certification in 2020 and becoming an Atlassian Platinum Marketplace Partner in 2022, while also contributing to the growth of the Hungarian Atlassian Community, which reached 1000 members in the same year.
Learn more about META-INF at https://www.meta-inf.hu/en/home 
About DevSamurai
Based in Japan, DevSamurai stands as an innovative IT Service firm, harnessing cutting-edge technology to provide transformative DevOps solutions to its expanding clientele. 
Our team's collective expertise matches the power of technology. From there, we offer top-notch consulting, efficient service delivery. More significantly, we swift technological solutions for a seamless Software Development Life Cycle (SDLC). 
In July 2023, DevSamurai was designated as an Atlassian Platinum Marketplace Partner, which reflects DevSamurai's commitment to delivering exceptional products and services to its customers.
Notably, DevSamurai's partnership with META-INF reinforces the commitment to optimizing project development through agile methodologies. By combining DevSamurai's expertise with META-INF's deep understanding of the Atlassian ecosystem, DevSamurai expands its reach and ensures more organizations can benefit from our innovative solutions. Together with META-INF, we can deliver comprehensive services and support, helping organizations unlock the full potential of our collaboration and information management processes.