Are you getting started with TeamBoard for monday.com? Or perhaps you're looking to get the most out of your current setup? Then this is the webinar for you. TeamBoard is a top monday.com app that centralizes and fast-tracks your resource planning process, and we're here to help you optimize productivity, and provide crystal-clear visibility over your entire project.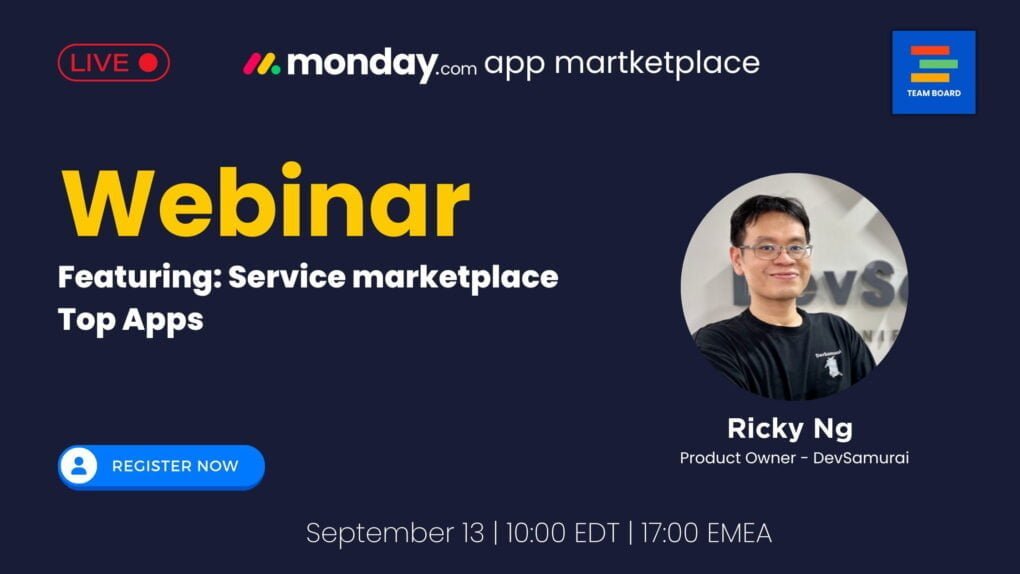 📆 Date & Time: Wednesday, September 13th, at 17:00 EMEA/10 AM EDT
🎙️ Speaker: Ricky Ng – Product Owner at DevSamurai
🔗 REGISTER HERE 🔗
Navigating project management complexities just got a whole lot simpler. TeamBoard, integrated seamlessly with monday.com, becomes your go-to solution for efficient planning, equitable workload distribution, real-time issue spotting, and progress tracking.
This union transforms the way your team functions, elevating productivity and organization without the hefty learning curve. TeamBoard doesn't just fit into the monday.com ecosystem; it enhances it, ensuring that your team stays on top of every project detail effortlessly. The result? A streamlined workflow where efficiency meets simplicity.
Why the Webinar is a Must-Attend?
The TeamBoard Webinar stands out as a pivotal event for several compelling reasons:
Expert Insights:

This isn't just another generic introduction to a software tool. With Ricky Ng, a Product Owner at DevSamurai, at the helm, attendees will gain insights from someone who's not only well-versed with TeamBoard but has a deep understanding of its real-world applications and intricacies.

Enhanced Service Management:

monday.com users are already a step ahead in the project management game. This webinar will showcase how integrating TeamBoard can further boost their capabilities, especially in the realm of service management.

Practical Demonstrations:

It's one thing to hear about a tool's potential; it's another to witness it in action. This webinar promises real-time demonstrations, providing a tangible feel of TeamBoard's capabilities.

Networking Opportunity:

Webinars provide an unparalleled opportunity to connect with peers from the industry. Engage in enriching discussions, share experiences, and potentially find solutions to your unique challenges.

Interactive Q&A:

Have queries? Get them addressed directly by the experts. The Q&A segment ensures that you leave the webinar with clarity and confidence in leveraging TeamBoard for your benefit.

Stay Ahead of the Curve:

The digital workspace is ever-evolving. This webinar ensures you're updated with the latest trends and tools, placing you at the forefront of efficient service management.
In a nutshell, the TeamBoard Webinar is more than just an informational session. It's an opportunity to upgrade your service management approach, optimize team productivity, and achieve unparalleled efficiency in your projects. Don't miss out!
Webinar Details
Here are the specifics you need to mark on your calendar:
Date & Time: Set aside time on Wednesday, September 13th. We kick off at 17:00 EMEA, which translates to a bright and early 10 AM EDT for our friends on the other side of the globe. Whether you're wrapping up your workday or just starting it, this is one session you won't want to miss.
Topic Focus: The core of this webinar centers on Service Management. We'll delve deep into how TeamBoard, specifically crafted as a Resource Planning tool for monday.com, stands as a beacon for optimizing customer service, supercharging productivity, and offering unparalleled visibility across projects.
Speaker Spotlight: We're privileged to have Ricky Ng, the Product Owner at DevSamurai, leading the session. Ricky brings a wealth of experience and expertise, ensuring attendees garner actionable insights, practical strategies, and a comprehensive understanding of TeamBoard's capabilities.
Interactive Segment: Beyond the presentation, there's an opportunity for attendees to engage, ask questions, and gain clarity during our interactive Q&A. It's a chance to get personal insights from Ricky and understand how TeamBoard can be tailored to your specific needs.
Registration: Keen on joining? We've made the process simple. Just click on the REGISTER HERE link, fill in your details, and you're set! Spaces are filling up fast, so make sure to secure your spot soon.
The Value of TeamBoard: Resource Planning for monday.com
TeamBoard is not just another add-on. It's meticulously designed to fit into the monday.com ecosystem, ensuring that users have a seamless experience without having to juggle between different platforms or adjust to new workflows.
With TeamBoard, you get a bird's-eye view of all your resources. Whether it's manpower, time, or tangible assets, everything can be planned, tracked, and managed under one unified dashboard. This clarity ensures optimal utilization and prevents resource burnout or wastage.
In the fast-paced project environment, changes are inevitable. TeamBoard's flexible framework allows teams to make real-time adjustments to their resource plans, ensuring projects stay agile and on track, even when external variables change.
Resource planning isn't a one-person job. TeamBoard facilitates collaborative planning, where teams can simultaneously map out tasks, assign roles, and allocate resources, all in real-time. This collaborative approach ensures that everyone's on the same page, reducing miscommunication and overlaps.
TeamBoard, when integrated with monday.com, provides actionable insights based on real data. Be it performance analytics or resource allocation trends, these insights guide teams towards informed, strategic decisions, ensuring efficiency at every step.
Whether you're a startup or an enterprise, TeamBoard grows with you. Its scalable framework ensures that as your projects expand and your resource needs evolve, TeamBoard remains a steadfast companion, adapting and delivering consistently.
So, as we wrap up the details and eagerly anticipate the enlightening discussions, there's one crucial step left – your participation. Join us on this journey of discovery and optimization, and let's together reshape the landscape of service management. Secure your spot today and embark on a path to elevated efficiency and productivity. We can't wait to welcome you!