Collaboration tools are the need of the hour. These tools bring people together that work on the same tasks.
"Coming together is a beginning; keeping together is progress; working together is Success".
– by Henry Ford
Globalization has created a flat world where the team members located at different time zone work together to create success. For such companies planning meetings gets tough when they lack online tools.
Do you want to make your Confluence meets interactive but lacked apps and tools to share your thoughts?
Unable to plan your retrospective meet or daily standup?
You need a shared space to discuss your business plans with multiple teams?
If you are searching for a simple interactive, collaborative, fun tool to share your images, videos, and sticky notes with your team members in Atlassian tools, then this article is for you.
LeanBoard app available in Atlassian Marketplace is just the right one for you. It enables you to visualize your ideas and plans. Be it business plans or meetings, it sets up a simple yet creative board to write, share, or plan your conferences. LeanBoard's easy setup reduces your dependencies on standalone apps.
LeanBoard is for designers, project managers, clients, and your professional and personal teams. LeanBoard increases the speed and efficacy of this productivity and builds confidence with your customers.
LeanBoard gives you two options to set your innovative and creative space, namely public and private. The public board is visible for all, and the private board is visible to invited users or it's just for you.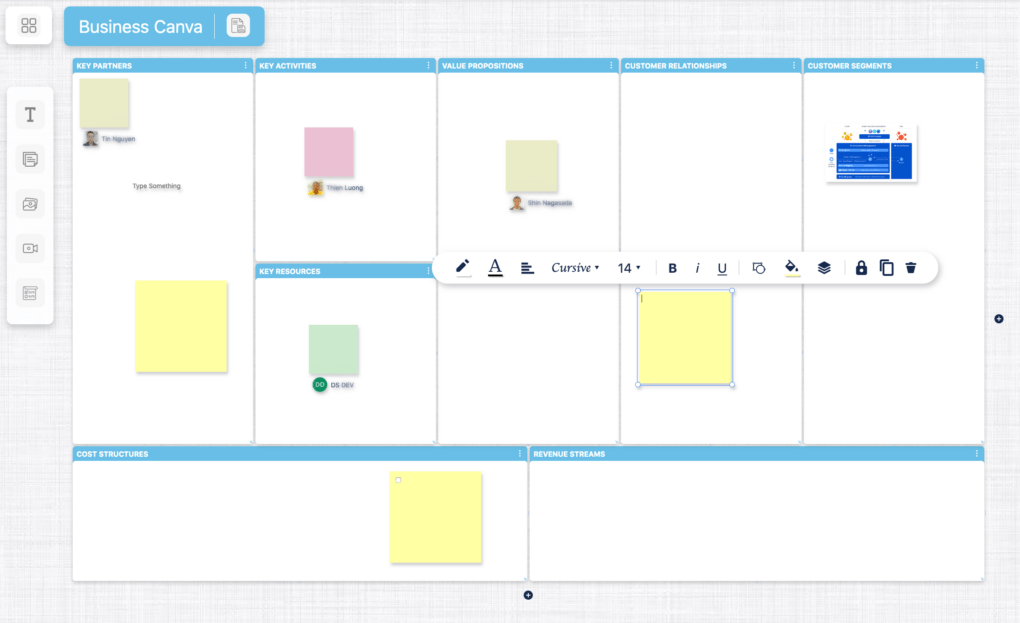 Why choose LeanBoard?
LeanBoard is for the teams working on Confluence. You can directly add this free app to your account and create or choose the templates. The board designs create excitement during your professional meets.
1, Empathize with customers: LeanBoard shares your content with teams within Confluence. The collaborative tools allow you to invite anyone for the meets. It is a good start to know your customers and empathize with their ideas. 
2, Plan and act: Getting the right stakeholders in the same room is quite challenging, especially when your team is working across the globe. Colorful sticky notes are utilized while planning, but having them on the whiteboard during the virtual meet is not easy. Larger teams work easily by adding and sharing their daily or weekly progress.
3, Brainstorm ideas: Most of the ideas come from brainstorming interactive sessions. More the number of interactive participants better is the outcome of the discussions. Different managerial teams or design teams can work by adding their designs and images in their sessions.  
4, Design thinking: Building customer-centric designs are challenging, and it's even more challenging to scale already existing ideas into successful projects. Teams working on confluence find it easy to operate  LeanBoard. A task like adding images, videos, stickers is easy.
5, Evaluate and retrospect: Certain events such as Sprint kick-off meetings, retrospective, or internal meetings are usual. LeanBoard has a predefined set of built-in templates. In these templates, you can easily add the items to the boards, split or merge the boards. You can design your custom templates for your organization and share it with our team. Built-in or custom templates are great for a quick start.
6)    Optimize daily activities: Daily standup is a daily activity in Agile projects. For team members working at various time zone, LeanBoard is the best to share their meet. 
7)    Professional Support: Built by IT Company DevSamuria a Japanese company, there is constant effort to provide support to their clients.  
Encourage innovators with LeanBoard
LeanBoard is simple to use. Its drag and drop features make it flexible to add elements like the label, sticky notes, images, youtube videos, and a list with sticky notes. The features of these elements can easily change.
Homepage:
The homepage displays all your boards that are created using the private and public boards. You can manage all the boards on this page by creating, deleting, and editing.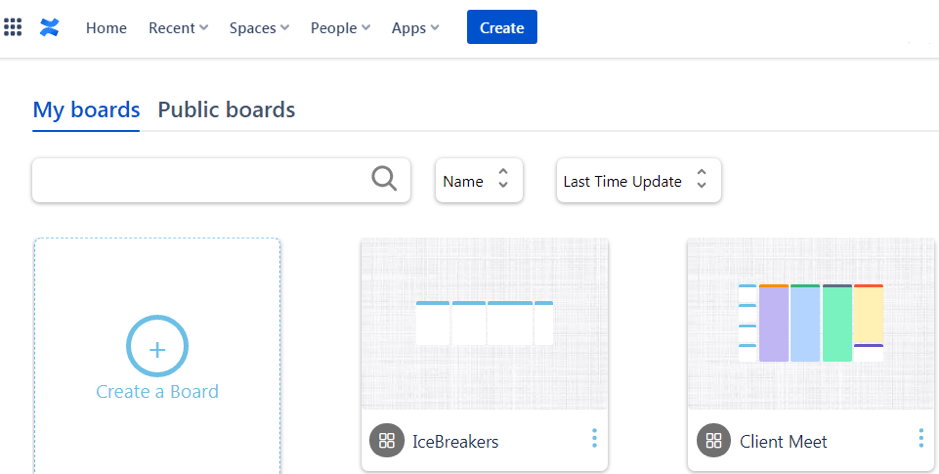 Templates:
Ready to use templates are best for a quick start. Currently, the options are for business and IT meetings. These business and IT templates include the default template to create your custom board, meeting board, business canvas model, retrospective, daily standup. Choose any one of them to save this board on your homepage.

Board
Create, store, and organize your ideas on board. You can have multiple vertical or horizontal planes. Cards can be split into the top, bottom, left, or right and can be merged with any other cards.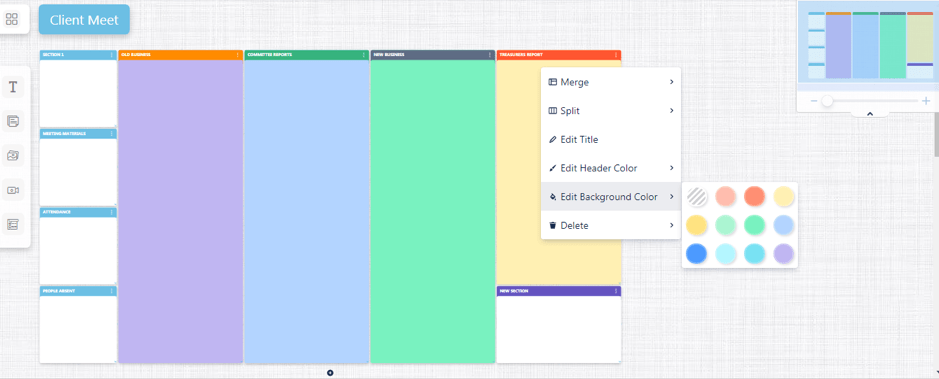 Text, Image and sticky notes
LeanBoard gives you various choices to create special groups and professional meets. Adding text, images, stickers, and videos is easy by drag-drop methods. Setting text fonts, colors, and sizes of stickers are ana click away.

Deal with specification
Checklist displaying points are part of business plans, but the devil lies in the details. The list created using the LeanBoard has checked and unchecked items.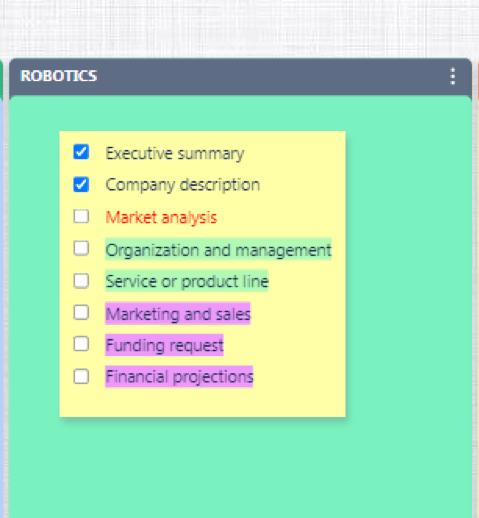 Drag, drop, move anywhere: 
The features like a drag, drop, and remove makes it easy to place your ideas on board.
Additional features like zoom in and zoom out are great to have an overall perspective and deals with the clear-cut details.
Take Away
LeanBoard created by DevSamurai an IT company is a blend of the collaborative workspace that holds the space for private and public interactions. Most companies prefer standalone apps that make the users move back and forth between confluence and their external workspace.
For companies working on Confluence, LeanBoard creates the visual workspace in your account. All the private and public boards are stored in this workspace. It gives you options to invite your teams. The tools like sticky notes, images, text, and videos can be placed under boards. Addition feature like zoom-in, zoom-out, drag-drop and colorful placeholders on the board makes it interactive and fun to use during professional meetings.
Check it out now LeanBoard Visual Workspace for Confluence