AgileBox for Jira is an add-on designed to enhance the Jira experience for Agile teams. It provides a set of tools to help teams plan and manage agile projects, including visual boards, sprint planning, retrospectives and daily stand up meeting tools . AgileBox for Jira helps teams track progress, identify blockers, and optimize workflows.
Sprint planning with Planning Poker
Planning poker, also called Scrum poker, is a consensus-based, gamified technique for estimating the effort of software development tasks. It is a variation of the Wideband Delphi method. It is most commonly used in Agile software development, in particular in Scrum and Extreme Programming. In Planning poker, members of the group make estimates by playing numbered cards face-down to the table, instead of speaking them aloud. The cards are revealed, and the estimates are then discussed. By hiding the figures in this way, the group can avoid the cognitive bias of anchoring, where the first number spoken aloud sets a precedent for subsequent estimates.
AgileBox Planning Poker feature provides a virtual planning poker for the remote teams. Teams can participate in Planning Poker sessions without having to be in the same physical location. Each team member can join the session from their own computer or mobile device, and the facilitator can lead the session from a central location. During the session, team members will estimate the size of tasks using a virtual deck of cards. The facilitator can then review the estimates and assign tasks to the appropriate team members.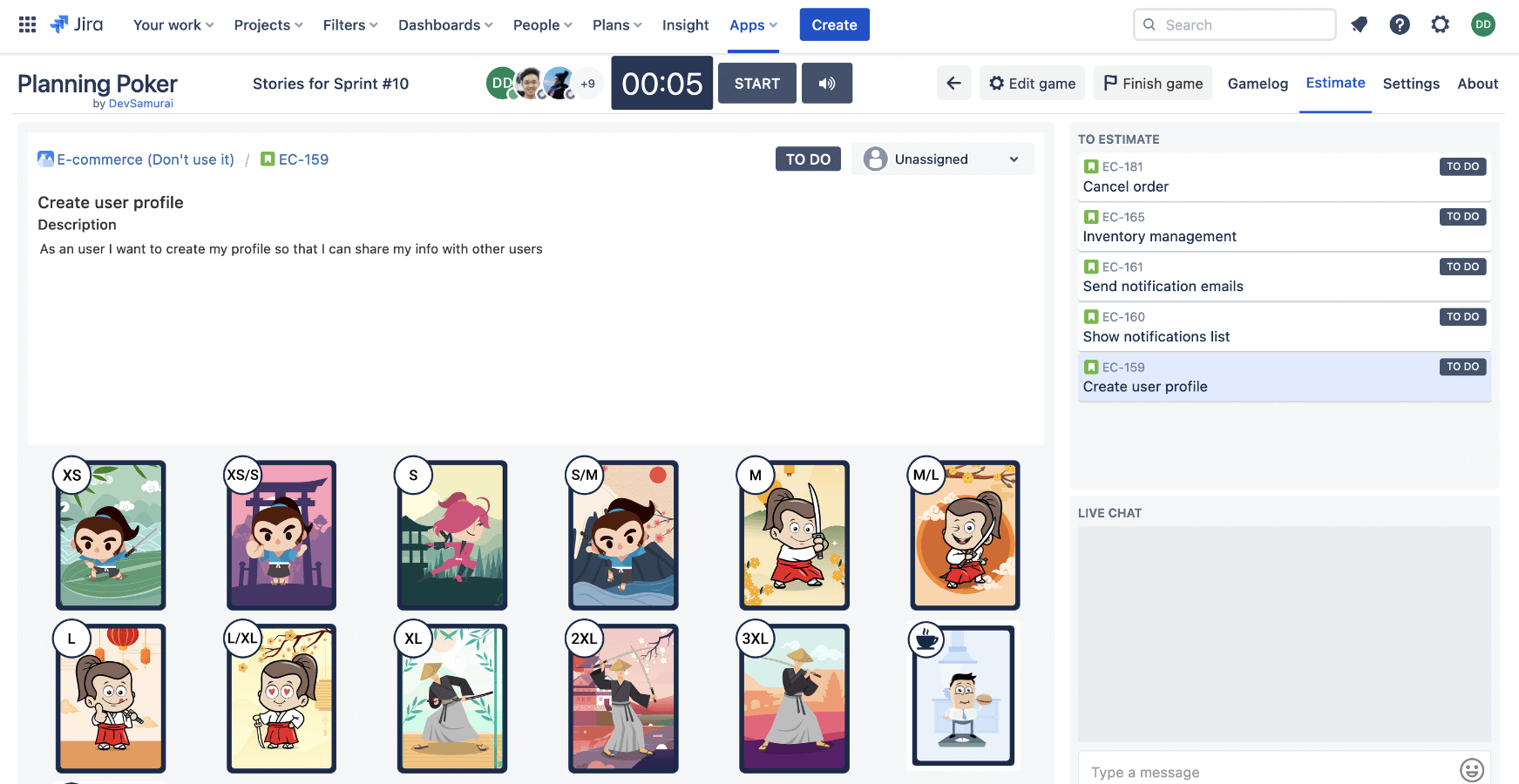 Agile Retrospectives
A retrospective is a meeting held at the end of an Agile software development sprint or project, in which the team looks back on what went well and what could have been improved. It is a chance for team members to reflect on their processes and collectively identify areas of improvement to make their work more efficient and effective. The goal of the retrospective is to identify and address problems more quickly, as well as to recognize and celebrate successes. During the meeting, team members work together to brainstorm potential solutions, agree on action items, and set goals for the next sprint or project. The retrospective is an important part of Agile methodology, as it encourages continuous learning and improvement in order to deliver the best possible product.
AgileBox Retrospectives is an online tool designed to help teams have productive, meaningful conversations about their work. It enables teams to reflect on successes, identify areas of improvement, and develop action plans for the future. AgileBox Retrospectives allows teams to capture feedback, insights and ideas in an easy-to-use, visual way. This helps teams better understand their progress, identify areas of improvement, and work together to create action plans. With AgileBox, teams can get the most out of their conversations, as well as track progress and measure results.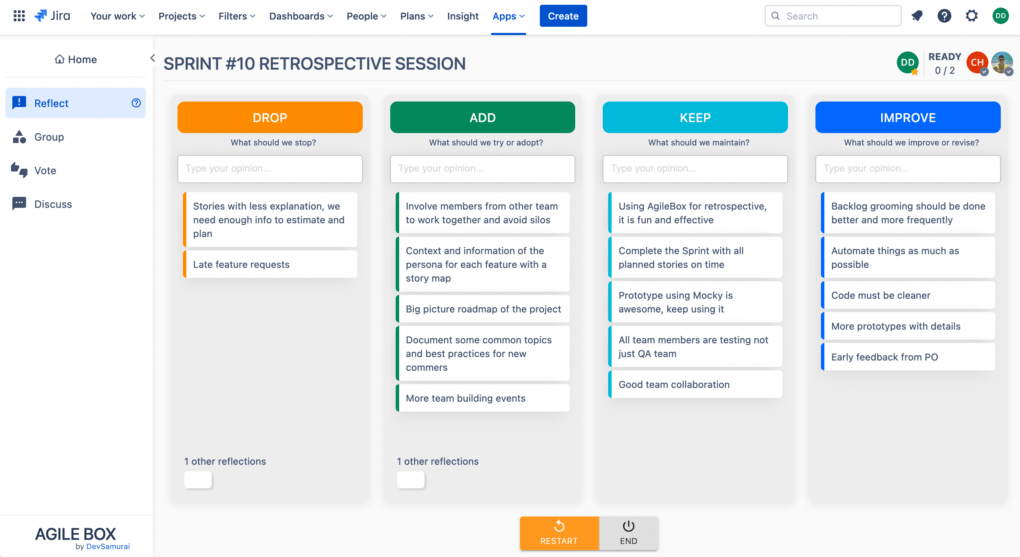 Scrum Daily Stand Up
A daily standup is a short meeting that is held every day to quickly communicate progress and outline any challenges or roadblocks. This typically involves each team member discussing what they worked on the previous day, what they plan to work on for the current day, and any issues or blockers they are facing. The purpose of the meeting is to keep everyone up to date on progress and to ensure that everyone is on the same page.
AgileBox Daily Standup provides a platform for users to share updates, store the history of the daily standup meeting. It keeps the team on the same page literally.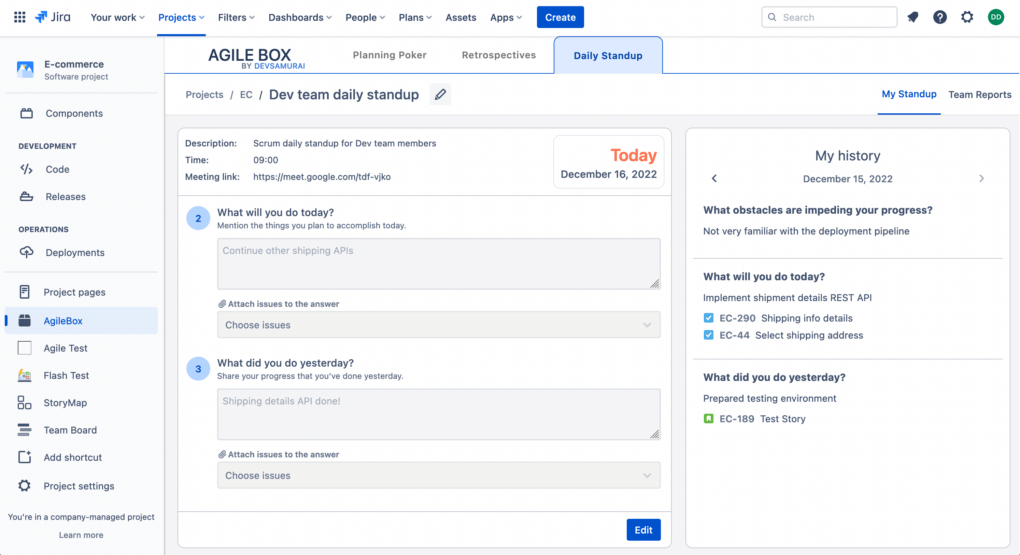 Fore more details please give AgileBox a try now https://marketplace.atlassian.com/apps/1224759/agile-planning-poker-retrospectives-daily-standup-meeting