To achieve progressive success, an agile team is required to establish effective collaboration, display accountability, and easily connects to the larger picture of your project.
Today business environment is changing faster than ever before. To keep pace and succeed in a competitive world, your organization needs to react quickly, adapt, improve and exceed the previous performance benchmarks of yesterday.
With limited skilled professional resources, functional managers allocate them in multiple half-baked projects. Handling various projects, allocating resources, and planning their time for each project without overloaded resources is a challenging job.
If you are in the same situation, it's best to work with a timesheet that sync's the real-time data with all team members. We'll discuss the all-in-one best timesheet tools, that manage your project, team's time and adapt to your project management skills.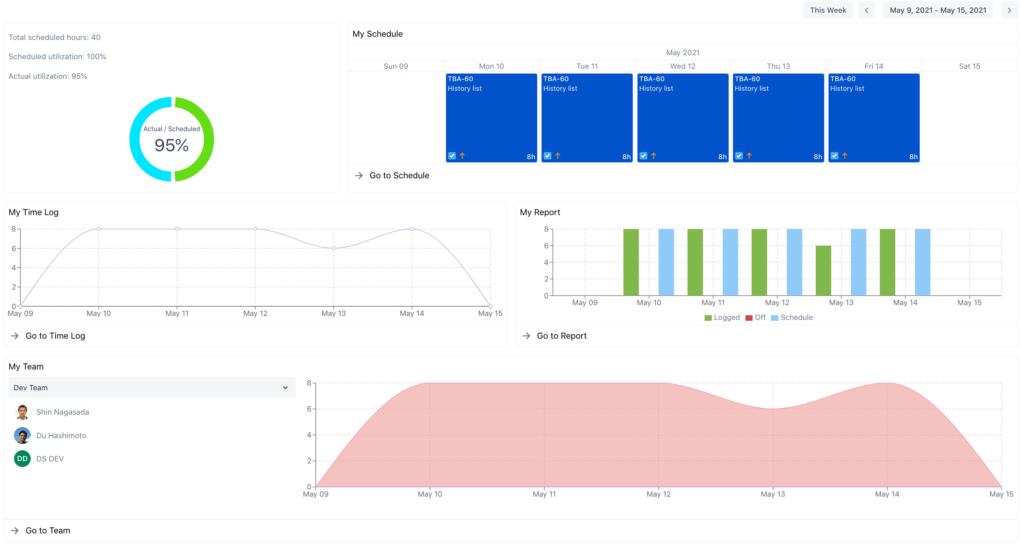 Managers are familiar with Jira. Jira is a flexible, automated, focused, and extendable project management tool used by companies. Although Jira reports and tracks bugs, it manages resources and creates timesheets using the same login and security.
TeamBoard, a fully integrated visualization board, manages teams and resources. This comprehensive tool is available in the Jira marketplace. Instant integration with Jira makes it easy to display the team members and Jira tasks. Designed for managers, it manages project tasks, resources, timesheet, employee profile, leaves/holidays, billing, and invoice.
The highlight of TeamBoard is the cards. Managers schedules the tasks and assign the team member, using cards. The cards flexible and can be adjusted with the height and width to set the working hours. With the unique color system of cards, Managers can design card colors for tasks, teams, or individuals. The card also sets the progress and allows flagging along with details. The timesheets can be approved or rejected as per the convenience of the team.
Other features like reporting, displaying the logged and scheduled time of the individual and specific team.
Plan and track time with monday.com
monday.com is a flexible platform projecting an overall view of the project and highlights the individual's tasks and time.
A combination of project management and resource management, Monday.com has excellent time tracking features with an intuitive layout to clarify the sequence of work. Users welcome its time tracking, collaborative approach with reporting features.
The time tracking cards display details of the resource and attachments of task files, comments, teammates. Experience the tracking abilities in their muti-viewed dashboard, which reports projects and their data. Just used for tracking hours, timelines, and invoices, it prioritizes the assigned task. You can track the time through their app as the timesheet sync on their app.
An ultimate package is created through monday.com as it integrates with multiple tools like Slack, Google Drive, Gmail, Google Calendar, Jira, GitHub, Trello, Dropbox, Typeform using Zipper.
Time tracking using Wrike
Best for the companies or freelancers who work on gig-based portfolios or hourly fixed-rated projects, Wrike gives insights of consumed time for accurate billing.
The fully integrated time tracker collaborates to manage their timesheets and billings with various clients. The features like visibility into the workflows identify the bottlenecks and inefficiencies.
It tracks your timesheet in two ways, either plan the task in the project planning stage or start a timer as you work on the impromptu task. The timer feature is excellent as it pins at the top and provides features like stop, pause, and play.
The previous tasks and time information, not only assist in billing but also used to plan future assignments.
A simple spreadsheet look and features like Gantt Chart, time log, table, etc. accurately help track the billable hours. Trusted by 20+000 customers, it enhances your creativity by allowing you to design the landing pages, and engrosses you with its interactive training videos.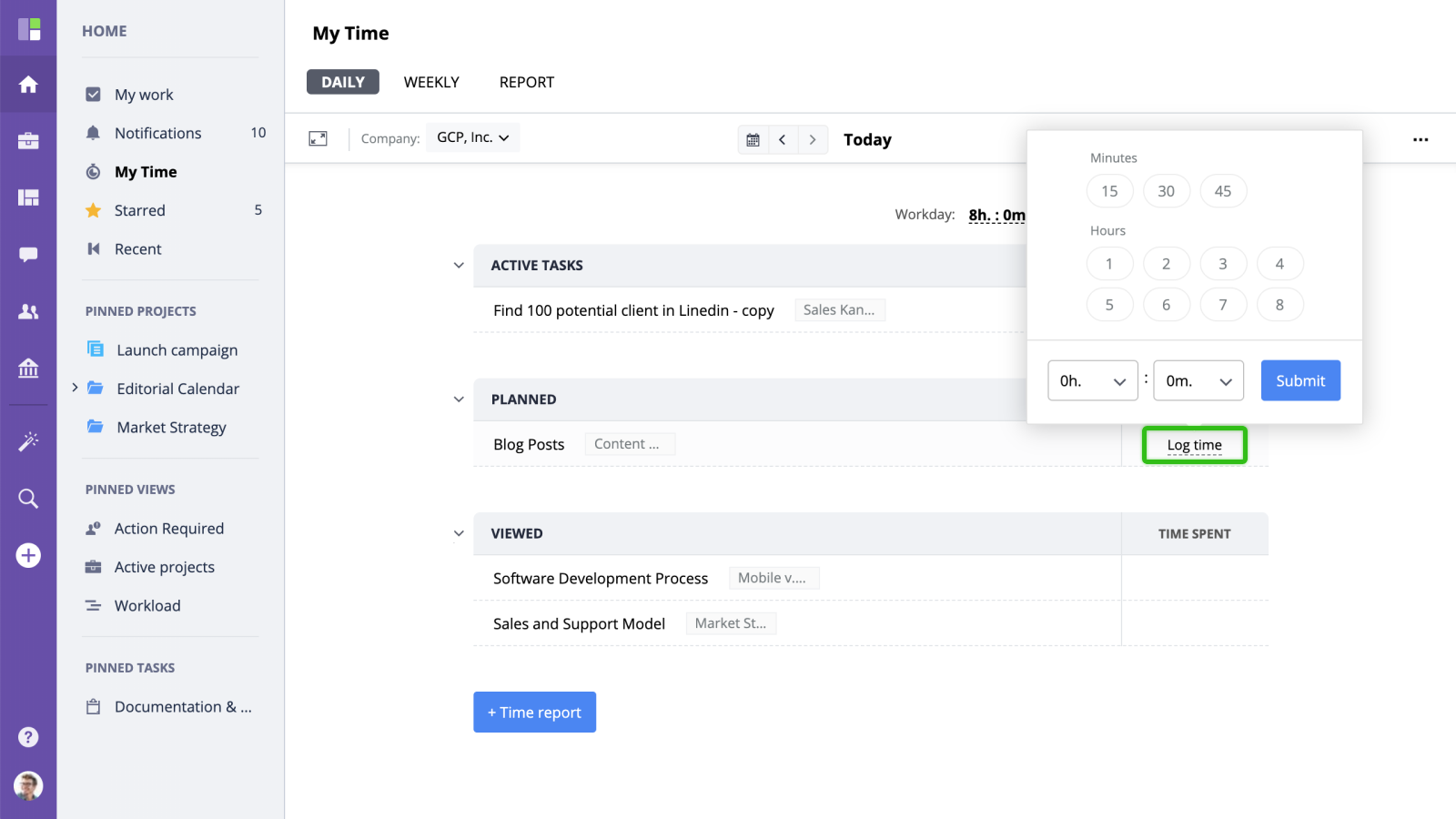 Track time using GoodDay
GoodDay is a work management platform that maps real-time goals with strategic plans of the team. Organization, managing project execution, track progress, and achievements are managed on the same cloud platform. It established effective communication channels by builds an alignment into various departments and cross-functional teams.
Most of the time tracker works on planned tasks, but along with the work scheduler to work on planned tasks, GoodDay built in a task timer to log time with precision and ease. Additionally, daily timesheets, weekly timesheet, project time reports, and AI-enabled Guestimate reports the time spent on projects.
It aligns with your day-to-day process and gains continuous improvements on accountability, transparency, and agility during your working hours. Best for all sizes, it's perfect for companies looking for a quick and less learning curve for all the departments.
Tracking time using Harvest
For a solo enterpriser or big-size companies, Harvest tracks the time of professionals and helping them to scale their profits. Harvest improves the work-life balance of its clients by avoiding overloading the professional and allows them to focus on harder problems.
To improve profitability, Harvest helps task planning and estimation of projects, to accurately display project launch. An easy-to-learn application tracks your projects on desktop and mobile with real-time data integrated into the workflow.
A timesheet that accurately maps your task to time, gives a clear perspective to time and budget. A confident billing increases transparency, Harvest turns your time into an invoice and integrates with online credit card processors.
Apart from tracking time and creating an invoice, it provides visualization reports, running your project smoothly. Displays your internal cost with a budget, and displays your team working time with total working hours, to adjust workloads, it also syncs data with multiple tools like Asana, Github, Google, QuickBooks and receives an invoice and makes payments with Stripe and Paytm.
TakeAway:
Managing projects without project and time management tools will cost your budget. All the time tracking and project management tools have the dashboard, flexible planning technique, and demonstrates overall reports and visualization charts displaying consumed and scheduled time.
For Jira users, TeamBoard developed for those Team Managers that care for their Team performance. The features and designed visualization board look similar to the Gantt chart. Additional features like assigning tasks, getting approvals, creating reports, and managing leaves/holiday arranges all details on the same platforms. Billing and invoice creation is necessary for proper billings.
For non-Jira users, we have covered the most used time tracking tools. Users can enjoy additional features like workflow integration, data sync with the app, built-in timers, billings, and project time reports.
For non-Jira users, selecting the right project management tool is necessary, as ease integrates with widely used online tools like Google, Dropbox, Slack progress the collaboration and communication efficiency