Planning Poker is one of the most popular estimation methods for Agile and particularly, Scrum. The main attraction is that it is incredibly simple and easy to use, and furthermore, it encourages collaboration and engagement. In this way, your team will reap many benefits on top of more accurate time and effort estimates. You should generate excellent teamwork, more efficient work, and stronger accountability.
Although it is an easy technique, you still need tools that can streamline the process. Without refinement and organization, this method can also be more complicated than it needs to be. While this is true for any team and any project, it can become a major problem for particularly large teams, teams working from different domains or departments, or innovative and ground-breaking products.
Luckily, there are online tools that can assist greatly with estimation. In this guide, you will learn how to find the best estimation app for you and the 5 leading planning poker apps for Agile online today.
How Do You Choose an Estimation App?
When you are looking for the perfect estimation tool, it can be difficult to know what aspects to evaluate. In particular, there are three factors that are important:
Features: The first priority when assessing whether an estimation app works for your team and project is making sure the features fit needs. Of course, any extra features may make your task easier.
Reliability: Often, reliability is something product managers and owners subconsciously desire but rarely think about until a problem occurs. As such, it is important to consider it during the selection process. Look to see if the creator has developed different versions of the app, if they offer documentation, if they offer customer support, and if they fix bugs within their software. These positive signs indicate the company plays an active role in maintaining their products and that their apps are reliable.
Cost: Naturally, cost is an important consideration for management. It can be advantageous if the creator offers a free trial of an app, so you can make sure it is an ideal fit for your team before committing to the product. Moreover, it is important to check if the company charges a fee for an upgrade and if this fee fits into your budget.
What Are the Top 5 Planning Poker Apps?
5 ) PlanningPoker.com
Features: PlanningPoker has many features that may help your team develop accurate estimates. You can import stories directly into the app, which makes it easier to view relevant story information and visuals. Furthermore, they display a scoreboard at the end of planning poker rounds allowing you to see average points for teams/individuals. You can manage the votes, team speed, and choose cards.

Reliability: They regularly do minor version updates. You can contact customer service through email.

Cost: You can receive a free 14 day trial. After the free trial, you will be charged for your chosen plan. If you have up to 5 players, you can access a free basic account (without all the features). If you have up to 10 players, you can choose the $14.95/month plan. If you have up to 50 players, you can choose a $49.95/month plan. They also offer custom plans.
4 ) Firepoker.io
Features: Firepoker.io is a free browser-based game, and accordingly, offers a basic Planning Poker plan. You can take advantage of their poker cards that come in four different formats (Fibonacci, T-Shirt, Scrum, and Sequential). Moreover, it is easy to set up a room for your team and invite everyone with a simple link.

Reliability: As it is browser-based, it is relatively easy for the company to bring it up-to-date.

Cost: Firepoker.io offers their services for free.
3 ) PointingPoker.com
Features: PointingPoker.com is another free, basic Planning Poker tool, which is very simple to use. You can create team spaces, and invite team members easily. Additionally, there is a statistics page which can show you the time spent voting, point values, and if a consensus was reached.

Reliability: As it is browser-based, it is relatively easy for the company to bring it up-to-date.
Cost: PointingPoker.com offers their services for free.
2 ) Pokrex
Features: Pokrex has a few key features that make it easy to use. You can select different story point schemes, enter stories directly, allow unlimited team members, and access organized metrics.
Reliability: You can access a chat to provide feedback.
Cost: Pokrex offers a free plan, and a $7/month plan. For the latter plan, you have the opportunity to take a free 30 trial.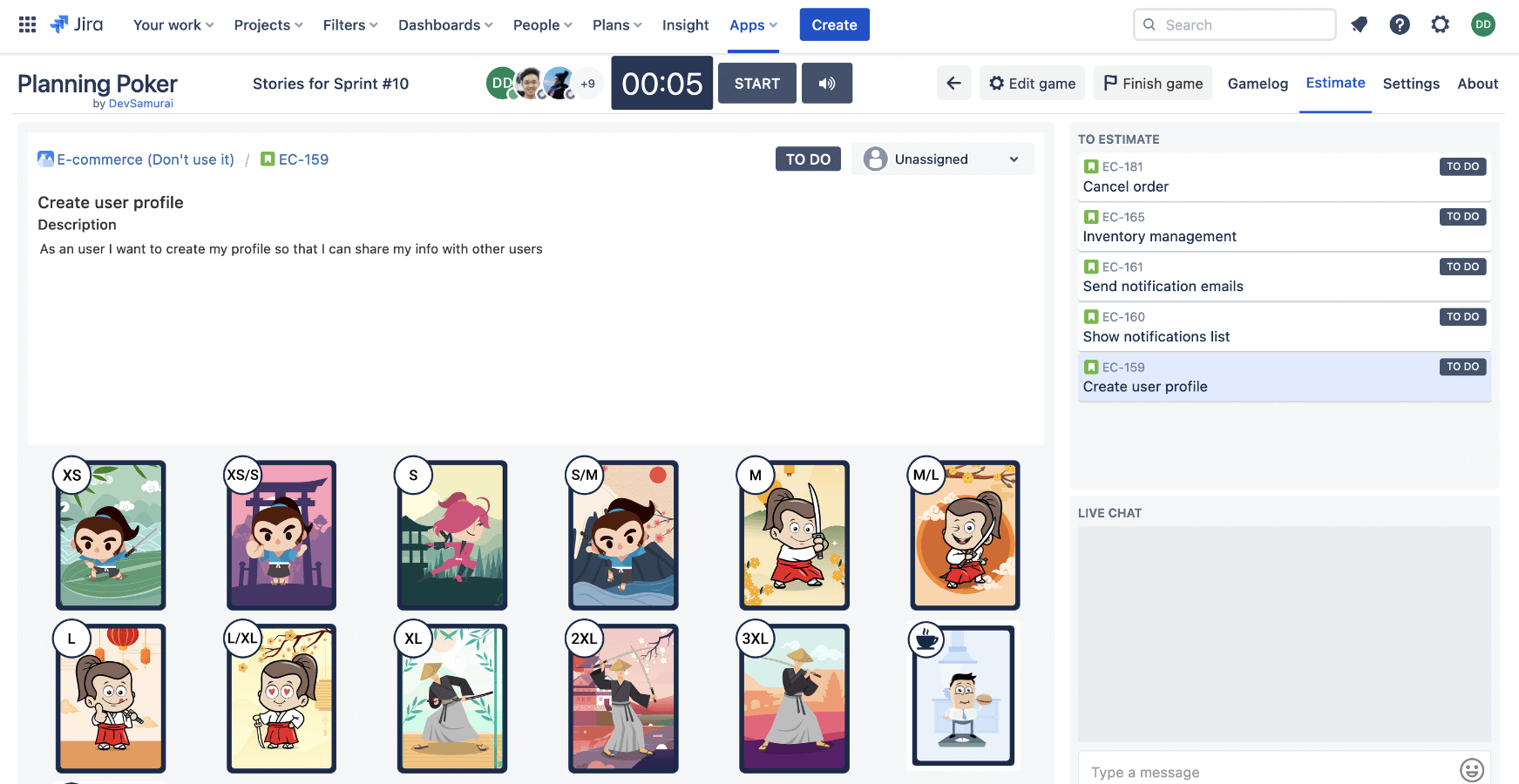 Features: With Agile Scrum Planning Poker for Jira, you have the chance to plan and estimate your tasks easily with your management peers and development team members. This app offers an organized dashboard, multiple card formats (Fibonacci, T-Shirt Size, and Custom creations), integrated communication modes, easy-to-read metrics, drag and drop stories, and easy invites to team members. One of its unique features is that you can export your results for note or report purposes.

Reliability: Reliability is on-point with this app. There are updates on a regular basis, immediate attention to bugs when necessary, easy-to-follow manuals, and customer support available.

Cost: You can have free access to up to 10 users. Another unique feature of this app is that you only have to pay above this number, for the exact amount of members you need. You do not need to rely on fixed plans determining how many members you can invite.
Agile Scrum Planning Poker for Jira stands out from other Planning Poker apps as it offers many unique features. These features have been designed with real product development and management teams in mind. Taking into account common project estimation problems, designers targeted specific areas to fix to help avoid errors and pitfalls.
For instance, with other online Planning Poker tools, it is necessary to use other communication devices. However, with this app, you can simply log on and get started. Likewise, dragging and dropping stories right into the app makes it simple to detail stories and tasks to team members during the discussion phase of Planning Poker.
Try Agile Scrum Planning Poker for Jira to discover how it can help your team today!