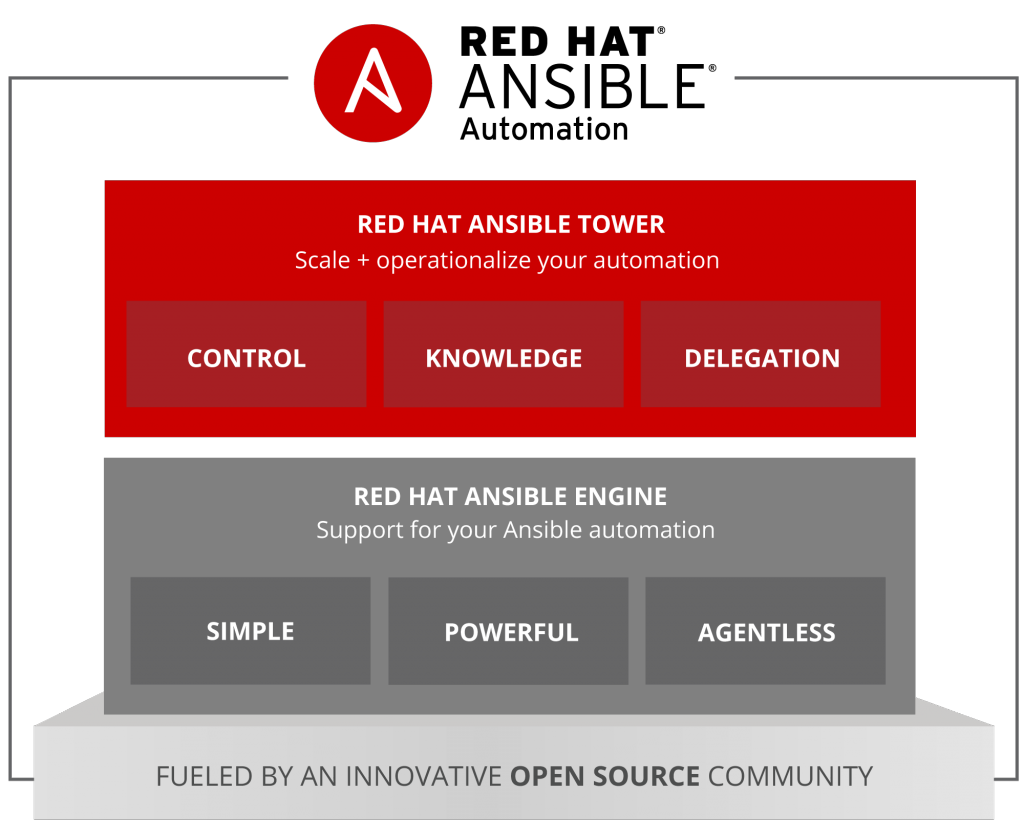 Ansible is simple, agentless IT automation technology that can improve your current processes, migrate applications for better optimization, and provide a single language for DevOps practices across your organization.
Ansible Tower enables entire organizations to consume and access automation regardless of their skills or ability.

Automate
---
Deploy apps. Manage systems. Crush complexity.
Accelerate
---
Solve problems once and share the results with everyone.
Collaborate
---
Break down silos, create a culture of automation.
Integrate
---
Automate the technologies you already use.
Centralizing configuration file management and deployment is a common use case for Ansible, and it's how many power users are first introduced to the Ansible automation platform.
When you define your application with Ansible, and manage the deployment with Ansible Tower, teams are able to effectively manage the entire application lifecycle from development to production.

Your apps have to live somewhere. If you're PXE booting and kickstarting bare-metalservers or VMs, or creating virtual or cloud instances from templates, Ansible and Red Hat® Ansible® Tower help streamline the process.

Creating a CI/CD pipeline requires buy-in from numerous teams. You can't do it without a simple automation platform that everyone in your organization can use. Ansible Playbooks keep your applications properly deployed (and managed) throughout their entire lifecycle.

When you define your security policy in Ansible, scanning and remediation of site-wide security policy can be integrated into other automated processes and instead of being an afterthought, it'll be integral in everything that is deployed.

Configurations alone don't define your environment. You need to define how multiple configurations interact and ensure the disparate pieces can be managed as a whole. Out of complexity and chaos, Ansible brings order.
Mission control for Ansible
---
Centralized deployment and consistent management for the enterprise
Red Hat® Ansible® Tower helps you scale IT automation, manage complex deployments and speed productivity. Centralize and control your IT infrastructure with a visual dashboard, role-based access control, job scheduling, integrated notifications and graphical inventory management. And Ansible Tower's REST API and CLI make it easy to embed Ansible Tower into existing tools and processes.
A visual dashboard
Role-based access control
Job scheduling
Graphical inventory management
Multiplaybook workflows
External logging integrations
Real-time job status updates
---
Enterprise automation tools for IT networking delivery and management
Manage your network infrastructure using Ansible throughout the entire production life cycle. First, server infrastructure. Now, network infrastructure. The same benefits of Ansible for compute nodes is now extended to physical networks, software-defined networks, and cloud-based networks
With Red Hat Ansible Network Automation, you can:
Automation network stacks from system to access to core services
Test and validate existing network states

Continuously monitor compliance to check network configurations for drift
DevSamurai enables companies to modernize and automate IT and business processes.
We help customers to transform IT to next level with latest cloud computing platform, devops tools and best practices.
Our team provide industry leading consulting expertise, service delivery, cutting edge products and solutions to all steps of Software Development Life Cycle (SDLC).